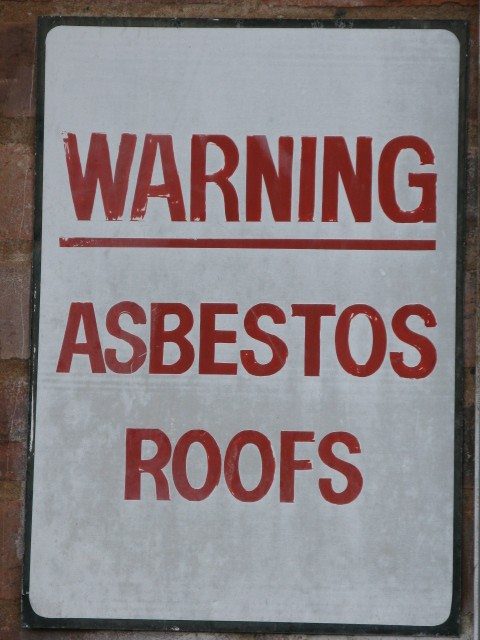 Asbestos Roofing
The information on this web site has been compiled jointly by Commercial Property Surveys Ltd, a firm of Chartered Building Surveyors and Liquasil Ltd., the manufacturer of the BBA Approved asbestos roof coating system, Asbestoseal.
Asbestos cement roofs were first installed in the UK around the 1920's and the last ones installed in 1999 after the ban on asbestos cement products came into effect.
During our roof surveys, we have come across many early installations that remain in excellent condition,  but we've also witnessed many that are not so good, or at the end of their 25-40 year life expectancy.
Our usual approach was to always recommend replacement of the roof, because it adds value to a property and of course, new roofs always work.
The problem with this approach is that a new roof is very expensive and the expense cannot always be justified on industrial buildings where rents in the region of £5 per sq foot are normal.
We therefore began exploring alternative solutions for our clients, taking into account the condition of the roofs, the rental yields and likely returns after improvement works were carried out.
The content of this web sit is based on our many years of experience in this area. It should not be considered to be "professional advice," though our building surveyors will be happy to assist you if you call 0121 711 7110.
USUAL ASBESTOS ROOF OPTIONS
Replacement
Replacing an old asbestos roof is usually the preferred option for most building owners.
It's also the most expensive option, but in some cases, the extra cost can be worthwhile if it results in increased rental yield.
Overclad
Overcladding an existing asbestos cement roof is a cost effective option in some cases.
Prices vary and there are other considerations to take into account like structural calculations and building regulations requirements
Coating
Before coating, an asbestos roof must be cleaned thoroughly, using a recommended method, ideally approved by the HSE.
The coating selected must be suitable for the asbestos cement substrate. Ideally, specify a BBA Approved product as this will have a declared life expectancy.
Repair
Asbestos cement roofs are fragile and should not be trafficked directly. Safe access systems must be used at all times.
Unless the roof in question is at low level with easy access, we do not recommend patch repairs, as the cost of access will likely exceed the cost of the repair, making it uneconomical.
Roof Lights
Most leaks on asbestos roofs can be traced back to the roof lights, especially the Glass Reinforced Plastic (GRP) types, which degrade quickly, with a life expectancy of around 15 years.
We recommend replacing GRP roof lights if they have yellowed and become brittle with age, but in certain cases, they can be cleaned and recoated with a suitable polyurethane coating.
Gutters
It's probably no surprise that the next most common area for problems with asbestos roofs, is actually the gutters, regardless of whether they are asbestos, metal or even plastic.
Gutter problems often occur due to the lack of routine maintenance, which can lead to them becoming blocked and overflowing, though of course, there are other reasons that a gutter can become problematic.
Whatever problem you are experiencing with your asbestos cement roof, we can usually assist.
Independent roof surveys are available by calling 0121 711 7110.
We use a variety of access methods including cherry picker, drone or telescopic photography pole.